How to save videos on Pinterest? | 2022 Ultimate Guide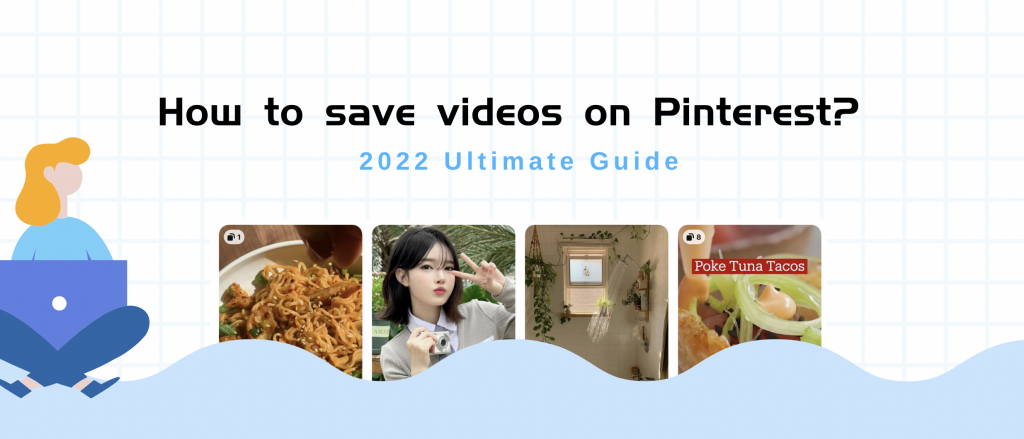 Why do people have questions about how to save videos on Pinterest? People share their ideas on Pinterest by posting photos, recipes, fashion, travel pictures, blog graphics, and anything else. Pinterest can easily help you collect and organize a wide variety of images and videos as inspiration continues to flow. When you want to share these videos with friends or watch them offline, you'll find that the unavailable platform doesn't have a built-in mechanism for saving Pinterest video. Fortunately, that doesn't mean you can't save Pinterest video. There are many third-party sites or plugins that support video saving. Follow me, the guide will show you how to save videos on Pinterest.
Contents
An amazing Pinterest video downloader—Pincase
Pincase is a free Pinterest video downloader that makes saving on Pinterest.com easier. It also provides a save function for images, GIFs, videos, and Story Pins.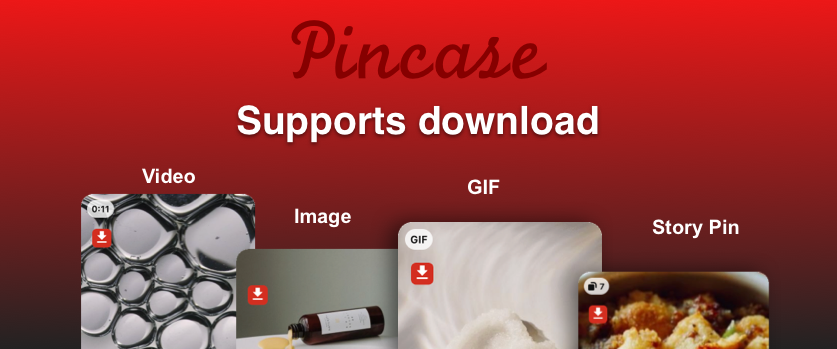 This Pinterest video downloader includes edge and chrome extensions, you can save Pinterest videos very easily through the extension. Also to support mobile downloads, Pincase has developed a mobile website that allows you to save videos directly to your phone. This is a tool that I personally like very much. Let's see how to save videos on Pinterest.
How to save videos on Pinterest to your phone?
How to download videos from Pinterest on iPhone or Android? A very simple method is to copy the video link on Pinterest to a website. pincase.xyz. The following figure will show you how to do it.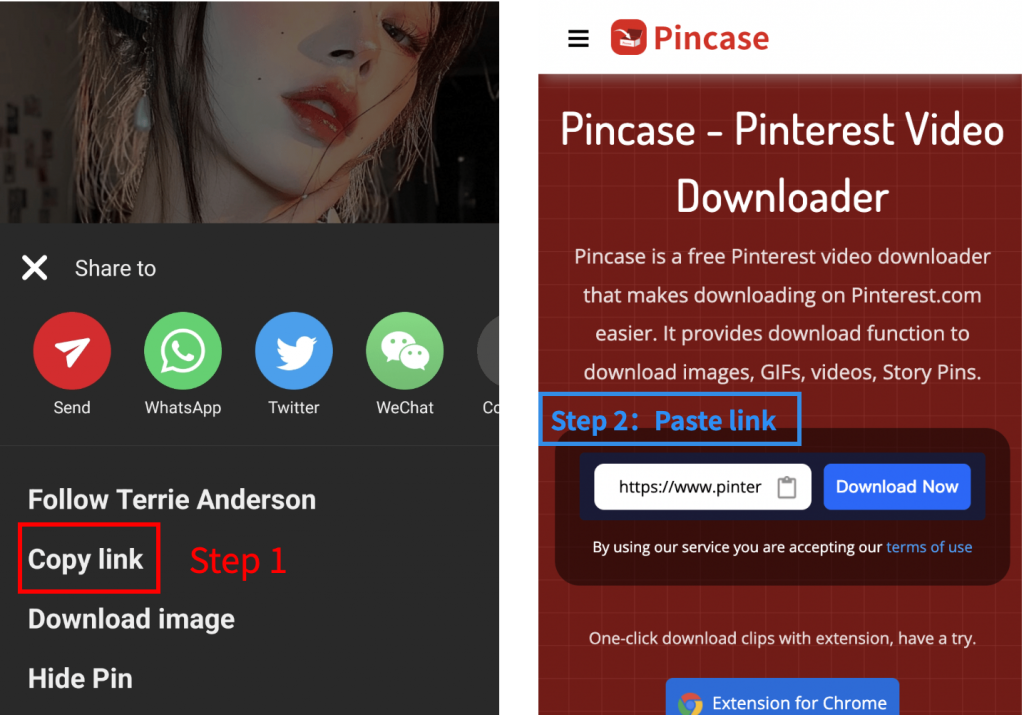 Is it very simple? It only takes two steps to save Pinterest video to the mobile phone.
How to save videos on Pinterest to your desktop?
Step 1: Install the Pincase extension
Download and install the Pincase extension, which supports Chrome browser and Edge browser. The following is the download link. Or go to the plugin store and search for "Pincase"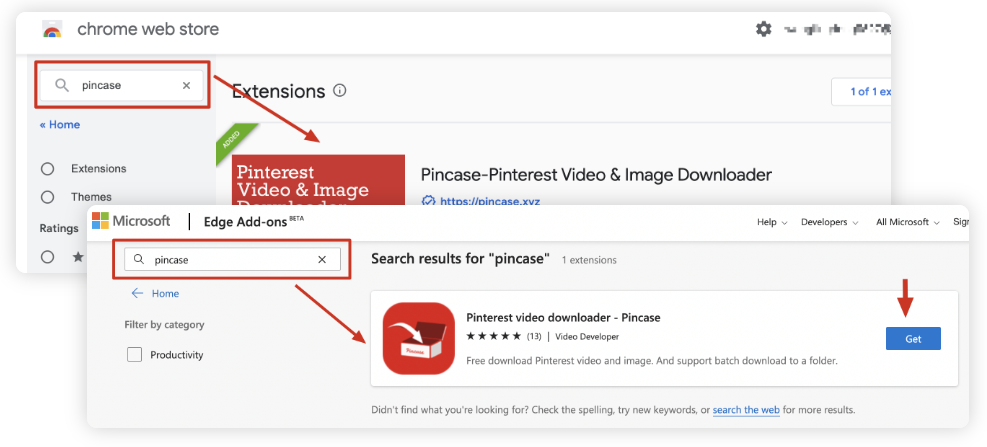 Step 2: Click on the download button on the website
Open the Pinterest website. You will see a save button in the upper right corner of each pin post. Find the video you want to save and click the button.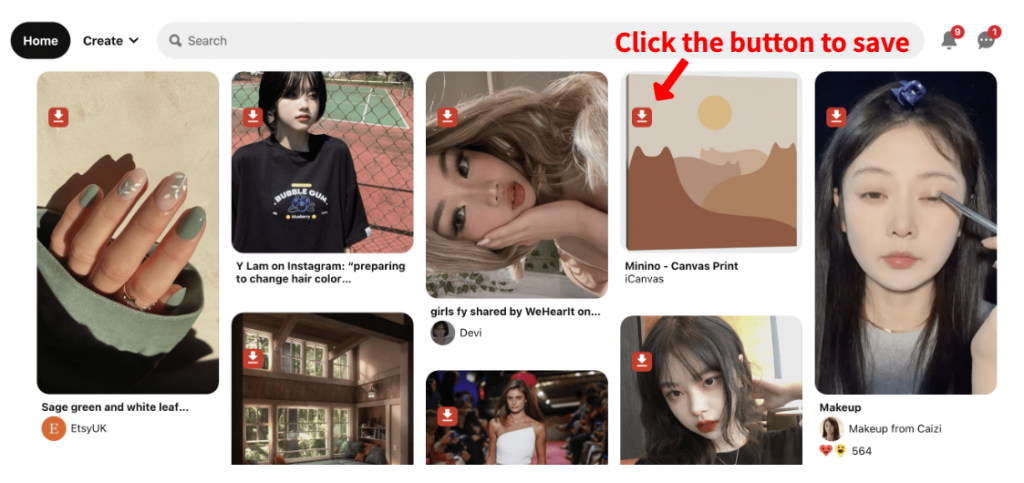 Is it very convenient! You can save Pinterest video to your computer with one easy click. It is worth mentioning that this extension has other amazing functions. Pincase can also be used to saved videos or pictures in batches. A large number of videos or pictures can be downloaded at one time, greatly improving the download efficiency. Next, I will introduce you to the magic of this tool.
How to batch download Pinterest pictures and videos?
As we all know, the Pinterest platform does not provide a built-in video download mechanism. The above introduction has solved this problem.But pincase can do more than that. pincase is both a Pinterest video downloader and a batch image downloader. When you search for a keyword, the pins displayed on the platform are your favorite. If we can download all the pins we have browsed, it will undoubtedly greatly improve our download efficiency. Congratulations, you found an amazing extension. It is worth mentioning that this Pinterest extension supports batch download of all types of pins, including images, videos, gifs, and story pins. Next, I will introduce how to use Pincase to realize batch downloading.
Step 1: Download target selection
Install the plugin, open the Pinterest website, and find the pins you want to download. It can be a search result for a keyword or a display content of a category. It can also be a theme board created by a leader or even a private theme board that you have already bookmarked.
Step 2: Select the range of pins you want to download
By scrolling the page, the plugin will automatically fetch all the pins that have been displayed on the screen.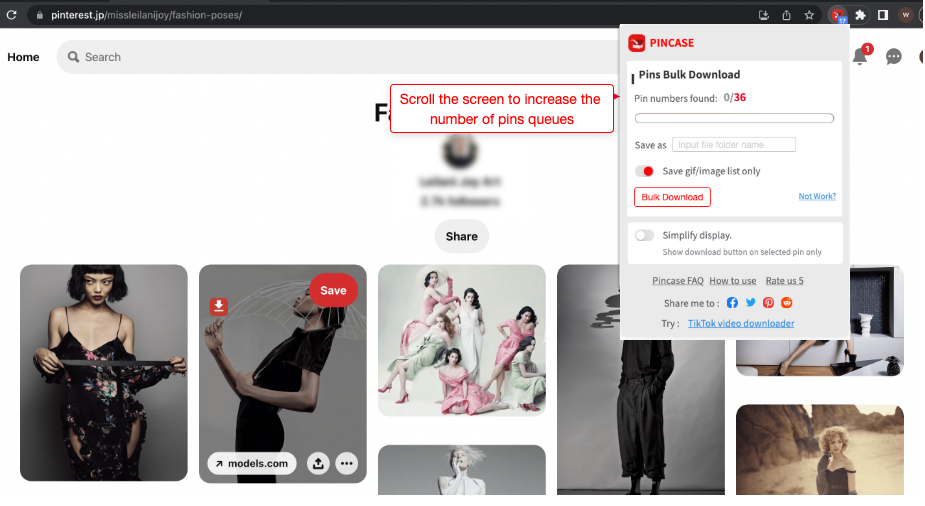 Step 3: Batch download settings
Select the type of pin you need to download, you can choose to download videos, or download images/gifs. These images or videos will be saved to a folder that you can name for this purpose. Click the batch download button to download
Step 4: Just wait for the download to complete.
The operation is very simple, and the efficiency has improved a lot. Do not be excited, the following is to introduce you to some very practical platform practical tips, and extensions to use the efficiency at least twice.
Some tips to improve the efficiency of batch download
Tip 1: Use the collection function of Pinterest to organize the pins that need to be saved in together to achieve a more accurate batch download.
We don't always have the luxury of time to individually download our favorite inspirations. Usually, we use the collection feature supported by the platform to organize these inspirations together and look at them in detail when we have free time. You can save pins, which you have already filtered yourself, on a designated board. Also, in order to gain more attention from fans, it is common to export your very best pin boards and upload them to new social platforms as a way to quickly gain your own followers. Taking a pin board as a download target will greatly improve the download efficiency. You only need to scroll the board page all the way to the bottom to download all the pictures and videos of a board.
Step 1: When browsing pins on the home page, add the pins you like to your favorites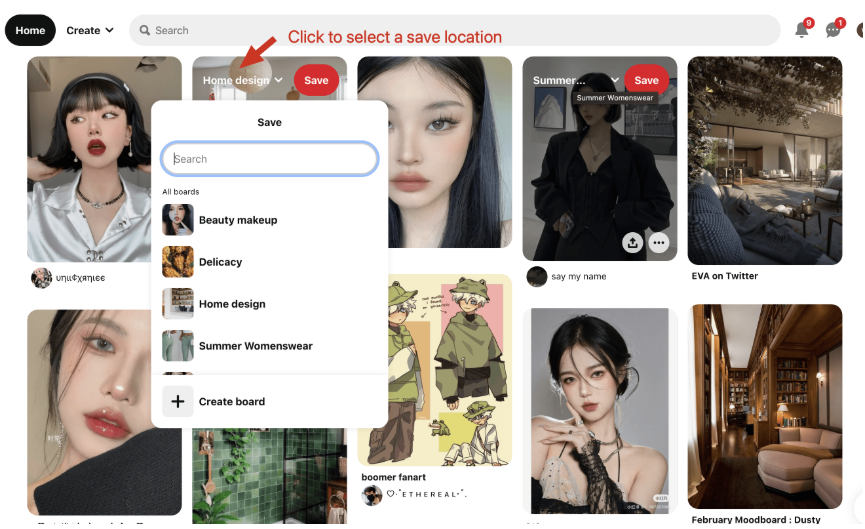 Step 2: Scroll the pin board to the bottom, so that the extension gets all the videos or images, click to download them
Tip 2: Get more accurate similar inspiration through the platform's built-in image matching mechanism.
The Pinterest platform has a feature that many people tend to overlook, which is the similar image finder. Through this feature, you can quickly find the inspirational elements you want to view. For example, if you want to view some chandeliers with similar elements to the picture below, the find button at the bottom right corner, you may quickly get a precise similar pin. Greatly improve the efficiency of finding inspiration through this method.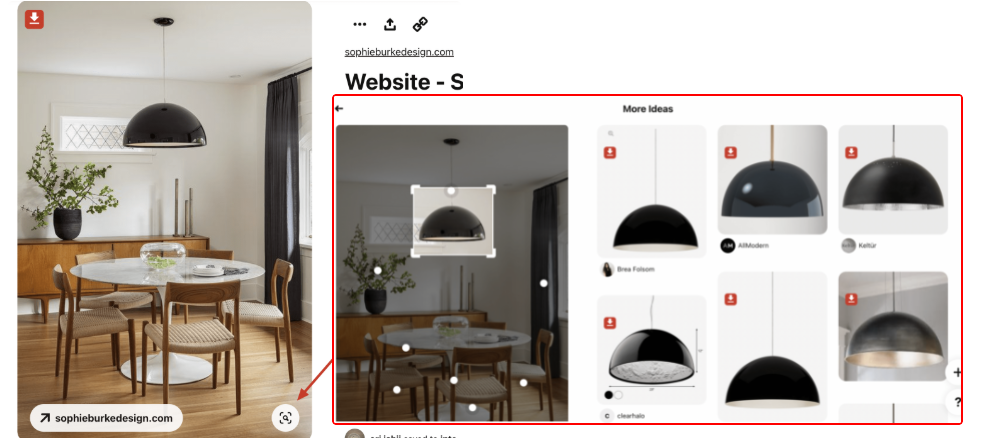 This tool makes it very easy to save Pinterest videos and even batch download pictures, videos, gifs, and story pins. Simple a free plugin that is super expected to solve your troubles, go ahead and try it!